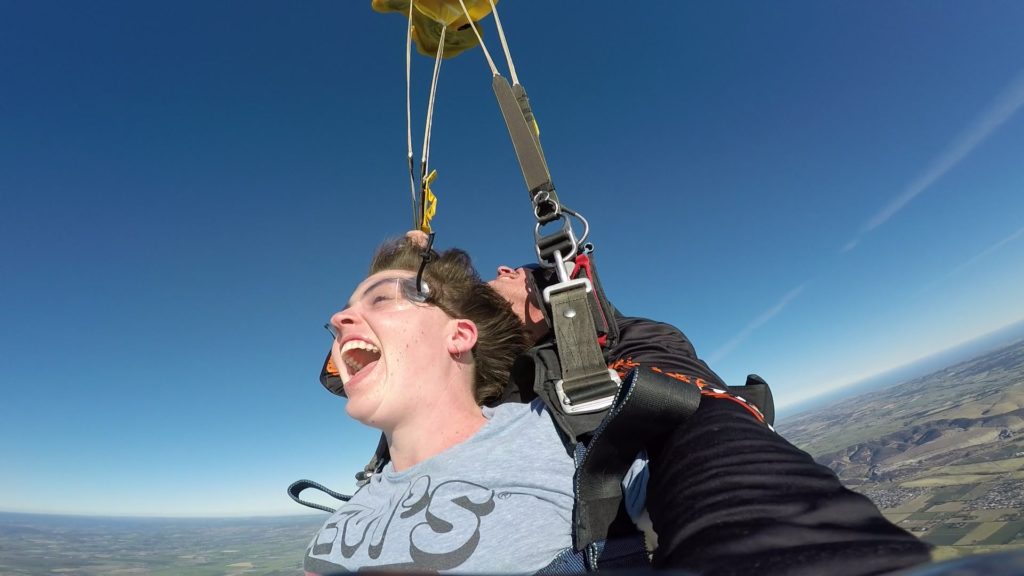 Coastal Skydive is the largest and most popular tandem skydiving operator in South Australia. Hosting the largest aircraft among the Adelaide skydiving community we offer the only beach landings and the highest skydive.
LOCATION DIVERSITY
Coastal Skydive offers the largest variety of skydiving locations to suit every local and tourist taste.
How would you love to skydive hosting unforgettable views of the Adelaide CBD, Gulf of St. Vincent, Adelaide foothills and all of Adelaide's Metropolitan beaches? Landing on the soft beaches in Semaphore is guaranteed before maybe planning nipping a trip for lunch to some of Adelaide's award-winning café and lunch hotspots in the area? We have you covered! Only 20 minutes from the CBD, there is no closer skydiving location to you than our Semaphore Drop Zone.
Maybe it's whale spotting, viewing some of Australia's best coastlines and surf breaks on the South Coast that rocks your boat? Our Goolwa Skydiving location will be the place for you! Host to our great entertaining area for large groups of family and friends, including BBQ facilities', arcade games for the children, a viewing area only 100m away from the skydiving action and a private theatre to watch your skydive on the big screen. Located only ten minutes from Middleton Beach, this is perfect option for those wanting a scenic drive through the stunning hill-side or spicing up the annual Victor Harbour school holiday reunion.
Still not selling it? How about skydiving over some of the best wine regions in the world, a captivating view of South Australia's famous Kangaroo Island, topped with a beach landing on the gorgeous Silver Sands slice of coastline. Just 40 minutes south of the CBD, Aldinga is sure to provide you with a bedtime story for the Grandchildren.
Our vast array of diverse drop zone's means Coastal Skydive is your one-stop-shop for the best skydiving locations and packages to suit your every need!
OPERATOR EXPERIENCE
We have built our excellence on a ton of experience and desire for skydiving and customer service. It is our sole purpose to deliver the most exciting and safe skydiving experience in Adelaide for you, your friends and family.
Skydiving is more than just a job, it is our passion! We are happy to boast a combined total of over 50,000 Skydives over 40 years. With an average of 7000 jumps per instructor, you are among the safest professionals in the industry.
Skydiving is not just for the thrill-seekers. We provide skydiving sessions for team building, corporate events, fundraisers, the young and old and even those with disabilities. We do it all!
We have won awards! Trip Advisor awards, South Australia Tourism Awards and even a World Championship Skydiving Bronze Medal, awarded to our Director and Tandem Instructor, Mark Gazley. We know you want the experience with the most fun, the better views, the safest instructors.
And if you're still not convinced, how about forgetting everything we just said and take it from our 500 Reviews on Facebook and TripAdvisor!
If you're looking to experience adrenaline and fun beyond your dreams, give us a shout and we'll make it happen. Check out our tandem skydive packages.